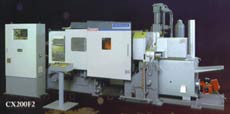 Adopt a non-contact proximity switch for 2 steps changing mechanism for injection slow/fast that is resulted in long life. Standard equipped sequence control system and 8 inch liquid crystal color display touch panel.
External limit switch with injection cylinder (easily adjustment for change over position for injection slow/fast). Storage of various kind of casting condition (up to 20 types).
Illustration panel (allowed management for temperature of furnace and heaters).
Monitoring the output of hydraulic valve and limit switch. The display of die locking force (optional).